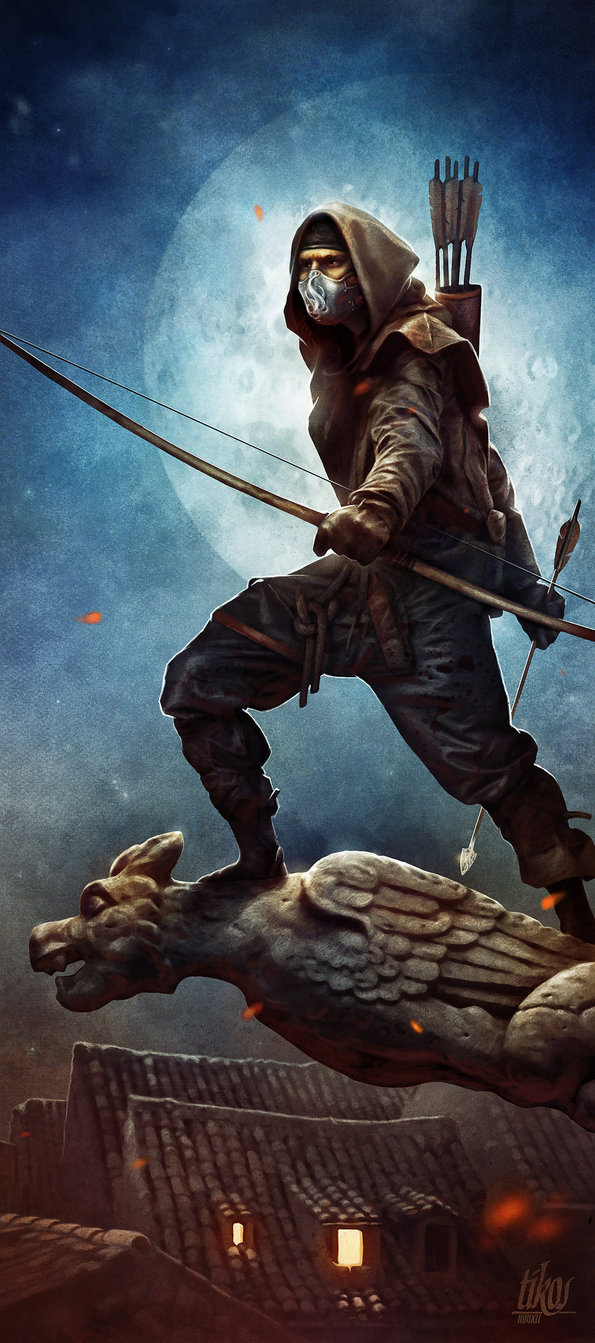 First Name - Kotoyo
Last Name – Kichida
Nickname – Koto
Gender – Male
Age – 19
DOB – Jan 14
Height – 5'11"
Weight – 143 lbs
Village – Kumogakure
Body Appearance
Hair Color – Dark Brown
Hair length - Short
Eye Color - Brown
Skin color - White
Body Shape – Thin and athletic
Tattoo's – None. Significant burns up his arms.
Other Information
Likes – Tea of all types, experimenting with tea, studying.
Dislikes – Sunagakure, Bandits
Parents – Kichida Keto (Father), Kichida Chiyoe (Mother)
Siblings – N/A
Children – N/A
Sexual Orientation – Heterosexual
Partner – N/A (again)
Ninja Information
Elements – Medical, Fuuton
Main Focus – Kenjutsu.
Sensei - Suzumi Kichida, Takeo Kichida
Squad – Raven Squad
Specialty – Nin/Ken (Ranged support)
Rank – Advanced Chuunin
Occupation - Academy Instructor
[Kichida]
(150 Tokens)
In centuries past, when Kumogakure was just being formed, there were no major bloodlines, or ancient clans. There was only warriors, who fought for their Raikage. Each had different ancestry, ability, and affinity, but all of these warriors united under the flag of Kumogakure to defend its land and interests. Among these warriors, clear tiers of combat ability began to form, and the elite grew reticent about their heightened status. Soon their families began to breed and train exclusively to secure their dominance over the warrior society. Years later, the need for the army declined with the development of the shinobi caste and unique ability-wielding bloodlines. The Kichida Clan had past formed out of this heightened tier of warriors, and their pride and dedication to the mastery of the Warrior Way brought the clan to survive decades of changes around them. Today, the Kichida clan is on an uprising from the shambles that the previous clan head left it in. Instead of coveting their knowledge, the Kichida share much of it with the shinobi they work alongside. Despite their small remaining clan size, they are recognized as some of the best Kenjutsuists in all of the 5 Great Villages.
______________________________________________________________
[A Life of Weapons]
A Kichida spends their life in the practice of weaponry and their capabilities, as such, they are masters of combat and their own bodies. A Kichida generally focuses on one weapon exclusively, but has knowledge of all weapons.
Universal: Kichida have No Weapon Penalties (Including Dual Wield), When Buying their first custom weapon, it has a 25 Token Discount
Genin: +1 to DEX Rolls, Kenjutsu Pierce 2 DR, +1d4 to Kenjutsu Damage Rolls.
Chunin: +2 to DEX Rolls, Kenjutsu Pierce 3 DR, +1d6 to Kenjutsu Damage Rolls.
Jounin: +3 to DEX Rolls, Kenjutsu Pierce 4 DR, +1d8 to Kenjutsu Damage Rolls.
______________________________________________________________
[Conditioning Masters]
Kichida train on a daily basis, because of this training their bodies are highly conditioned for combat. Whether it is practicing with a variety of weapons, or just one, the Kichida learn to optimize the use of their body to the highest potential. A Kichida knows exactly how to use their bodies in regards to training with unfamiliar aspects, quickly adapting to new weapon styles.
Unversal: +2 to Kenjutsu Learning Rolls, +1 to Learning Rolls they teach Kenjutsu.
Genin: +2 DR vs HP, -1 Kenjutsu CP Costs, +10 HP
Chunin: +3 DR vs HP, -2 Kenjutsu CP Costs, +15 HP
Jounin: +4 DR vs HP, -3 Kenjutsu CP Costs, +20 HP
______________________________________________________________
[Clan Jutsu]
Any Kichida is capable of creating custom Kichida Hijutsu. Custom Jutsu created in this manner are created following the custom Jutsu chart and must be learned as per the Jutsu Gate Learning System. All Kichida are allowed to create 2x E - B Hijutsu and 1x A - S Hijutsu for free. Note: Clan Hijutsu can be taught outside of the clan, but only by the original creator of the technique (Unless stated otherwise.).
______________________________________________________________
[Enhanced Combat Lethality]
(Extra 50 Tokens)
Some Kichida expand their knowledge further in the sense that they learn they vital points in the human body, and learn to spot the weaknesses in an opponents defenses. This in turn increases their chances of dealing a fatal blow.
Universal: Small Weapons) Kichida Using Small Weapons follow Medium Weapon Chart (Including Dual Wield)
Universal: Medium Weapons) Kichida Using Medium Weapons follow large Weapon Chart (Medium Off Hand If Dual Wielding)
Genin: +1 DEX Rolls, No Crit Range Change on Kenjutsu
Chunin: +2 DEX Rolls, 19-20 Crit Range on Kenjutsu
Jounin: +3 DEX Rolls, 18-20 Crit Range on Kenjutsu
(Large Weapons - Large Weapon bonus is as per normal Weapon Rules.)
____________________________________________________________________________________
Item: Food, Water, and Weapon Scrolls (No Token Cost)
RP only: These scrolls carried by Kotoyo carry with him food, water, and his weapons.  The idea behind them being that a shinobi can only carry so much in their packs, and being able to seal some of their heavier equipment into something small that they can carry with them at all times is a great help to them. It's a technique and item that can be learned by any shinobi, no matter the rank, and held by them as well.
Special Note: Lakes of water cannot be held in this. At best, several canteens can be brought out.
___________________________________________________________________________________________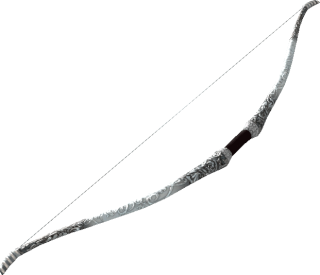 Tatsu no Yumi (The Dragon Bow)
This bow was created from the ribs of a mountain dragon, making it a naturally more powerful and lighter bow. The grip of the bow is coated with a nice wrapping and was made from a smaller rib from the rib cage, just big enough for a hand to wrap around comfortably, and it is coated in black linen wrapping to match Kotoyo's particular taste in bows. There are small notches at either end of the body of the bow for the bowstring to rest in perfectly. Even with the fact that this is a bow of bone, however, it seems to bend rather easily, but is next to impossible to break, allowing for Kotoyo to pull out even more destructive shots. The bow has a relatively ornate design to it which took quite an extensive amount of time for Kotoyo to carve into the bone. These designs tell a story, that even he does not know, as they originate from many of the designs he's seen in his nightmares at night. Due to either the supernatural origins of the materials – coming directly from a Dragon – or the markings along the bow, it has taken on a few properties that make it even more destructive than before. Shots on targets with any form of chakra end up taking a bit of damage to their chakra pools, and a portion of that damage is brought absorbed back into the bow.

+1d8 to Kenjutsu HP DMG

Deals Medium Single Wield Weapon DMG. On hit, base weapon damage does 1/2 hp and 1/2 cp damage. CP DMG is then returned to the user's CP Pool. (Burst Cap Cp Regen Maximum)
-Paid for. Overseen by DM Kisame (4/4/2015 9:43pm Central)
___________________________________________________________________________________________
Kotoyo's Back Story:
He comes from a very basic lifestyle in Kumo, despite being a Kichida. There was never anything typically astounding or even noteworthy besides the hunting he and his father would do. This is part of the reason why Kotoyo has decided that becoming a Medical Shinobi is the way to go, not only because of this lack of excitement in his life, but also because of how much he cares for those around him since he was very young. Many times when Kotoyo went out with his father hunting, he would find small wounded animals in the woods to take care of rather than eat. It is through the nurturing of these animals that he began to love helping others. From his mother he learned basic home remedies to help with everyday ailments and cuts, however he wanted to expand his knowledge significantly, both with his trusty bow and in medicine. This is why he sought out Suzumi to be his sensei and continues to search for a medical sensei, so that one day he may use his talents to aid his friends in the many adventures they will have.